US Navy Issue Camillus Sailor's Knife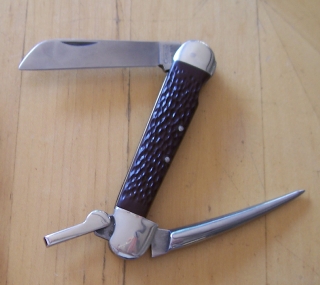 US Navy Issue Camillus Sailor's Knife



This beauty is brand new in original velvet case. It's hard to say the date for sure because of the unusual tang stamp and Camillus' inclination to change them on a whim.

It's certainly one of the coolest knives ever. Rock solid in the vintage Camillus tradition, it snaps like a trap. Very cool locking mechanism.

Here's what someone else had to say about it in their eBay auction (see screen shot above).

Sailors Rigging Knife W/Marlin Spike

Vintage Camillus Sailors rigging knife Circa 1960's into the 1970's with delrin handles and brass liners and heavy duty locking mechanism with stainless marlin spike. over 4" closed with good snap and brilliant nickel silver bolsters. Tang Stamp dates the knife from 1960-1975. These are heavy duty nautical knives issued to the coast guard and Naval personnel from 1916 to todays date. Camillus USA held the contract for over 50 years and they were made a multitude of knife manufacturers. These are vintage collectibles and finding one in this condition is not an easy task. American made and issued by our defense department.

This is a great collectible or a great EDC for a personal boating and or sailing enthusiast.

Get in today and snag your Sailors Knife, you can't go wrong with one of these dudes.

---
Copyright © 1998-16 YourBreak.com Contact Us




I would have loved to have written a great article about this knife, but this enthusiast ... [more]

---


---


---


This monitor is in perfect condition and has mostly sat for the last few ... [more]

---